The Heroine's Journey
Feminine path of Thriving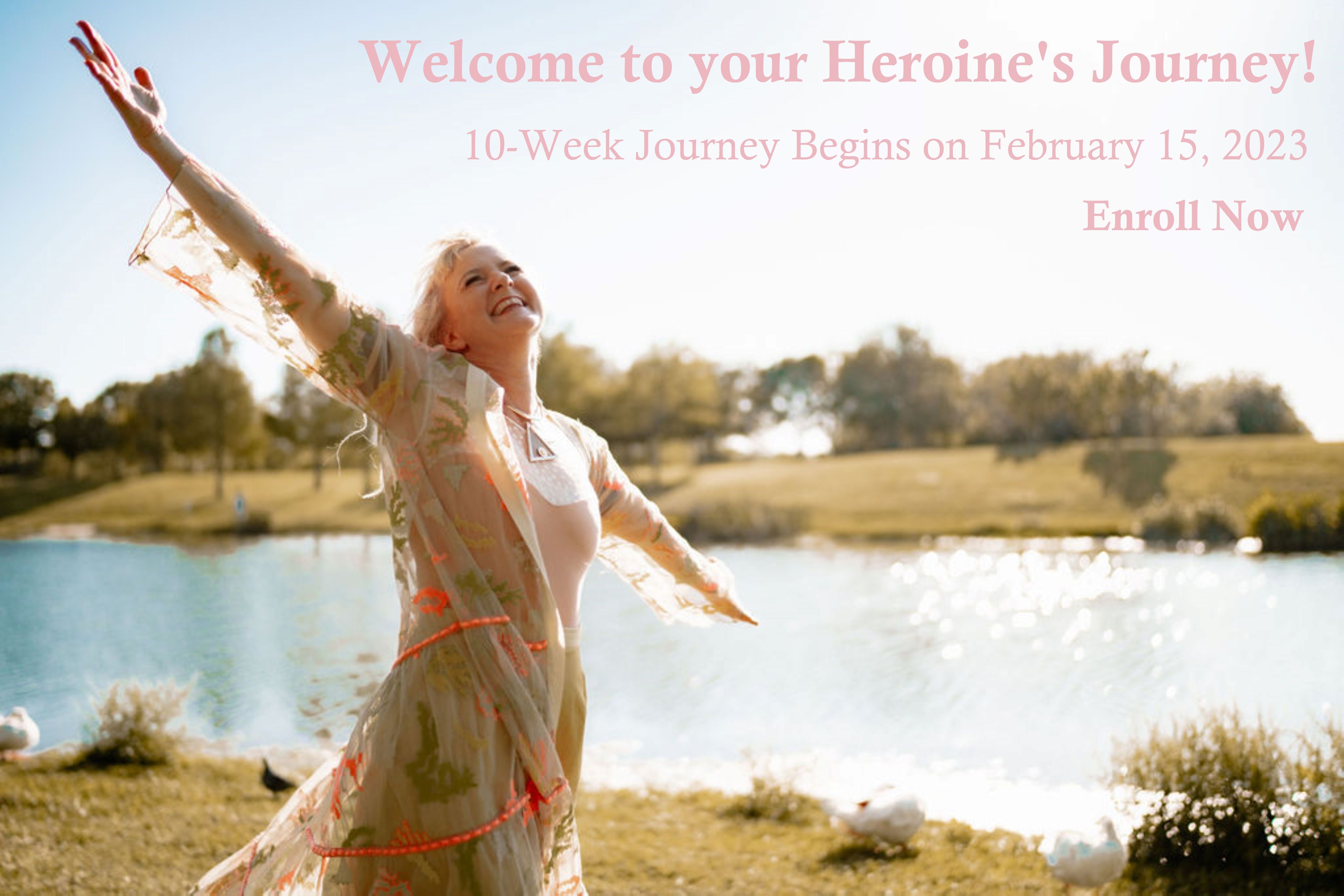 an empowered path into the wholeness that will transform every area of your life!
We Begin on February 15! Jump in now for Early Bird Pricing!
Do you long for the confidence to take a big leap in your life? You know you were meant for more but it feels terrifying to let go of what feels safe and familiar? Maybe it's an up-level in your career? Maybe it's a relationship that is not working?
You are not alone! I have bumped up against a big leap multiple times in my life and it always feels daunting at first. The voice in the head gets really loud whenever we contemplate change.
What if I leave this thing that is safe and then I can't find something better? Maybe this is all I am cut out for. What if I am fooling myself?
Letting that voice run your life will keep you safe, yes, but it will also keep you settling for crumbs.
The thing I always come to is that I didn't come here to settle, I came here to LIVE! And living requires taking risks and leaning into what feels scary and exciting at the same time!
We have been conditioned to look outside for permission instead of trusting our inner truth that is constantly trying to guide us to our own true North; our soul's highest destiny.
I want to invite you on an embodiment journey where you learn how to access your own deep wisdom and trust it!
Through the Heroine's Journey process you will overcome stories of lack, unworthiness, and not good enough. This work will take you to the source of your power where you can release what has been holding you back and reclaim your magnetic radiance that will empower your life!
When we deny ourselves the goodness that comes when we lean in, we suffer. Settling may feel like the easy path, but it becomes excruciating!
We have done the whole good-girl, people-pleasing, Martyr routine only to be taken for granted. Turns out there is a much better way. We have the opportunity to thrive! When we blossom into our full radiance, the world around us begins to blossom.
The Heroine's Journey is a path of reclaiming your wholeness and embracing your feminine power. From this place of sovereignty, you can feel supported from within and confident to make the necessary shifts you MUST make to honor yourself and who you came here to be!
You are meant to shine, and I am here to be a stand for you owning your radiance! Join me for this transformational journey of stepping into the life you were meant to live.
Here's to Living Life to its fullest!
With all my love,
❤️ Cathy
Wondering if this Journey is for you? Let's chat and find out!
How does The Heroine's Journey work?
The Heroine's Journey is designed to guide you through the unique transformation needed for you to embrace all that you are.
With over three decades of study and experience behind me, I have created an advanced program that includes the most profound tools and practices I have discovered for expansion! I am thrilled to share with you everything I have gained through my own epic Heroine's Journey!
Deep exploration (6-Bi-weekly Modules of workshops and lectures)
10-live group calls with me for 1x1 coaching and Q&A
Community Connection (Heroine's Journey Facebook Group)
10x-weekly live embodiment practices
Journaling Prompts for each module
In-Person embodiment event (optional)
With each of the 6 modules, you will receive an instruction video, a guided embodiment practice or meditation, and journaling prompts to deepen your experience. There will also be 10-weekly Q&A/group coaching sessions and 10-Embodiment Practices that you can either join live or watch at your leisure.
Based on years of experience guiding women through the Heroine's Journey, I have designed an optimized schedule of releasing a new module every other week, allowing the mind, body and spirit the integration time to fully form the neural pathways needed for embodiment.
Once the journey is complete, the workshops and practices are yours three extra months. This way you can take yourself through the journey multiple times, allowing the transformation to unfold at deeper and deeper levels!
We are talking about You, Embodied!
We come into this world whole and then life happens and we forget. We translate early life experiences into stories about ourselves that were never true. Stories about not being good enough, not being worthy or that we are somehow wrong. The Heroine's Journey is a remembering of the wholeness of who you are. It is a return to your own brilliance that connects you back into the pulse of life where you have always belonged and where you are meant to shine! The world needs the unique light you came in with! It's time to reclaim it!
We Start February 15th! Are you Coming?
This is for you if:
· You know you were meant for more, you just need to feel confident enough to make a change

· You are ready to stop settling for what's comfortable you just need to trust yourself enough to take the leap of faith

· You are ready to stop making excuses about why you are not doing the thing that both scares you and excites you at the same time.

· You have done a lot of work on yourself and you are ready for the next level of claiming your empowerment
This is not for you if you are:
Just beginning your healing/self-help journey (This is advanced work)
Looking for someone to save you or to do it for you (This is about stepping into empowerment)

Still blaming someone or something for your inaction

Waiting for someone to give you permission
The Heroine's Journey is designed to meet you where you are and then take you exactly as deep, as high and as embodied as you're ready to go. In other words, you get to set the pace!
This path is designed to facilitate the unique path your soul's North Star. Entirely online, you can journey at your own pace, in your own way, from anywhere in the world. To keep you company the entire way we will have regular Zoom calls and a private Facebook group, that will serve as safe space to share, to witness and to be supported. If you are open to it, this online circle has the potential to be an incredibly supportive network throughout our three months together and beyond.
"The Heroine's Journey is the most empowering experience that has changed my life forever. I thought I knew what self-love was! I didn't. I had no idea how much I needed me! This journey has set me free from old patterns that were holding me back! I am forever grateful!"
~ Eveline P.
"I could not have imagined my life as it is now before embarking on this journey, and now I can't see it any other way. I look at myself now and I am a different person. And for the first time, I can honestly say, I am loving me!!!"
-S. Bradshaw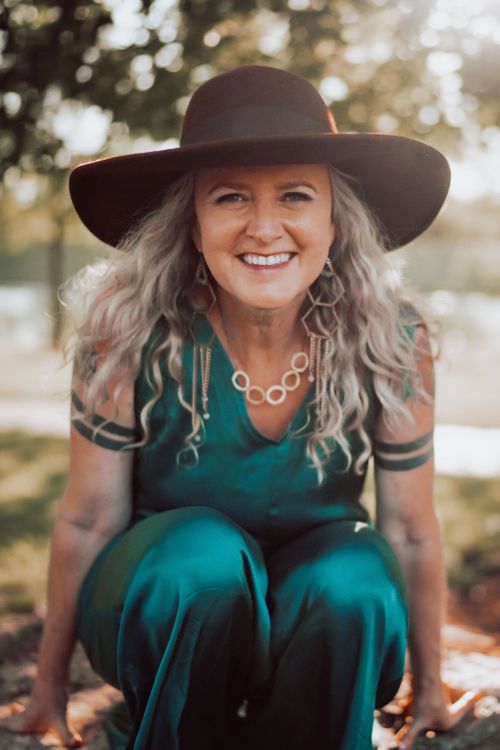 Who is guiding this Journey?
Hi! I'm Cathy Walker, founder of Radiant Woman You.
For almost three decades, I have heart-fully devoted myself to my own healing path while diving deep into epic programs, trainings and mentorships with the best of the best. One of my first teachers would always say, "You have to live it to give it", and I have carried that wisdom with me like a bible. I have been collecting transformational tools, wisdom and practices to support women like you to shine! I thrive witnessing you thrive!
My coaching draws from the lineages of Tantra, Internal Family Systems, Imago therapy, Transpersonal Psychology, Hypnotherapy, Kundalini, Shamanism and so much more. I am a life-long student of A Course in Miracles and I have a background in Chinese Medicine, massage therapy and acupuncture. It has been a source of deep inspiration and fulfillment to have worked with dozens of women like you, supporting their return to the inherent wholeness that is their birthright. My approach is highly eclectic, embracing the mystical as well as the practical while bridging the gap between mind and body intelligence.
I believe in empowering you deeply while offering you a compassionate space where it is safe to dive into the depths where true healing happens.
Every single part of you is worthy of love. I believe wholeheartedly are whole and brilliant in our soulful core. It's time for you to remember that wholeness. I am here to guide you to your fullest, most brilliantly expressed self on a path of love and celebration.
Are You Ready to Embrace your Heroine's Journey?
The Journey Begins on February 15th
Program Investment = Early Bird Rate is $1,111
(Payment plans available)
You deserve this! We all do.